Recap: 2021 Centennial Celebration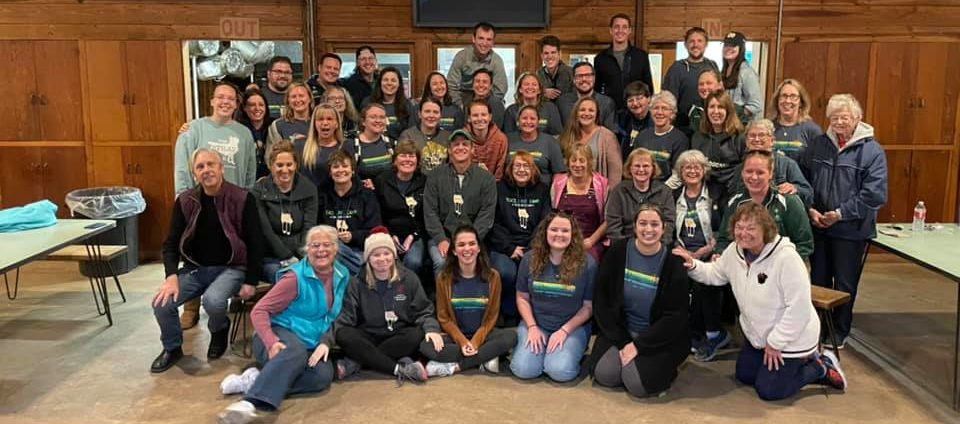 A gathering of friends, on a hill, above a lake, in among the trees. From Friday, September 24 through Sunday, September 26, 2021 we had more than 70 adults – former campers, staff, volunteers, and friends – join us at Camp Tannadoonah to celebrate our 100th anniversary.
Friday
On Friday, guests checked in and we kicked things off with lunch (hot pretzel sandwiches, with Banana Goodness for dessert!). Next, we enjoyed various classic camp activities, including making lanyards at handcraft, canoeing on the lake, and shooting archery. In the afternoon, we enjoyed a leisurely cocktail cruise around Birch Lake, courtesy of several lake residents who drove their pontoon boats. We returned for dinner, followed by evening activity – a camp-themed game show! Finally, we adjourned to a bonfire to sing camp songs and share stories.
Saturday
Attendees awoke Saturday to a pancake and sausage breakfast, followed by more camp activities. Many people took advantage of the massage station, thanks to Tiana, massage therapist at Satori Salon and Spa. At noon, we began cooking lunch over the campfire – a choice between walking tacos, campfire chili, and foil dinners. For dessert we opted for banana boats, campfire cones, or baked cinnamon apples. In the afternoon, another round of activities included our favorites from camp, as well as guided tours of camp, and a mixology class where guests learned how to make our signature craft cocktails, specially designed for this event (recipes here).
Next, we gathered in the Dining Hall for appetizers and cocktail hour, followed by dinner catered by Chic Eats Catering (dessert was a delicious gourmet s'mores bar). A photo slideshow on the big screen shared thousands of images from Camp's history (see the full slideshow here). At one point, an impromptu performance of The Bear Song broke out with former counselors re-enacting the decades-old Saturday morning camp tradition.
Centennial Program
The evening program kicked off with a video celebrating the 100th anniversary, featuring parents, alumni, board members, staff, and more. Next, Ms. Amber presented 100 Years: A History of Camp Tannadoonah, complete with stories going back to the 1920s as we learned about the origins and evolutions of Camp and Camp Fire.
Next, Ms. Amber shared our vision for the future of Camp Tannadoonah and where we're heading next. With that, she announced that our new Camp Director will be Miss Gabby Bittner, a longtime camper, counselor, staff member, and volunteer. A formal introduction will follow soon.
Finally, Camp Fire River Bend board president, Patrick Welch, presented the newest inductee to the Legend Tree, the highest honor bestowed by our council, to Miss Dorothy Denton.
Known to campers as Miss Denton, she served as the South Bend Camp Fire executive director and Camp Tannadoonah director from 1939 through 1968. During her 30 years of leadership, Camp Fire expanded the Camp Tannadoonah property, built the Laura B. DeRhodes Dining Hall, the Kiwanis Health Center, and the "Birds" Cabins. They also installed the 160 foot long concrete seawall, a new pier, and new waterfront stairs. During her leadership, Camp Fire was serving between 2,500 and 4,300 girls annually in their Camp Fire club programs. In addition to Camp Tannadoonah, Camp Fire operated Camp Wakinda, a day camp on the southwest side of South Bend.
We wrapped up dinner by closing out the Silent Auction at 9pm. There was some heated bidding in the final moments of the auction! In total, we raised over $4000 from the auction. Thank you to everyone who donated items to the auction, and those who bid on the items!
The program concluded with a singing of Green Trees followed by a late evening of singing and guitar around the campfire.
Sunday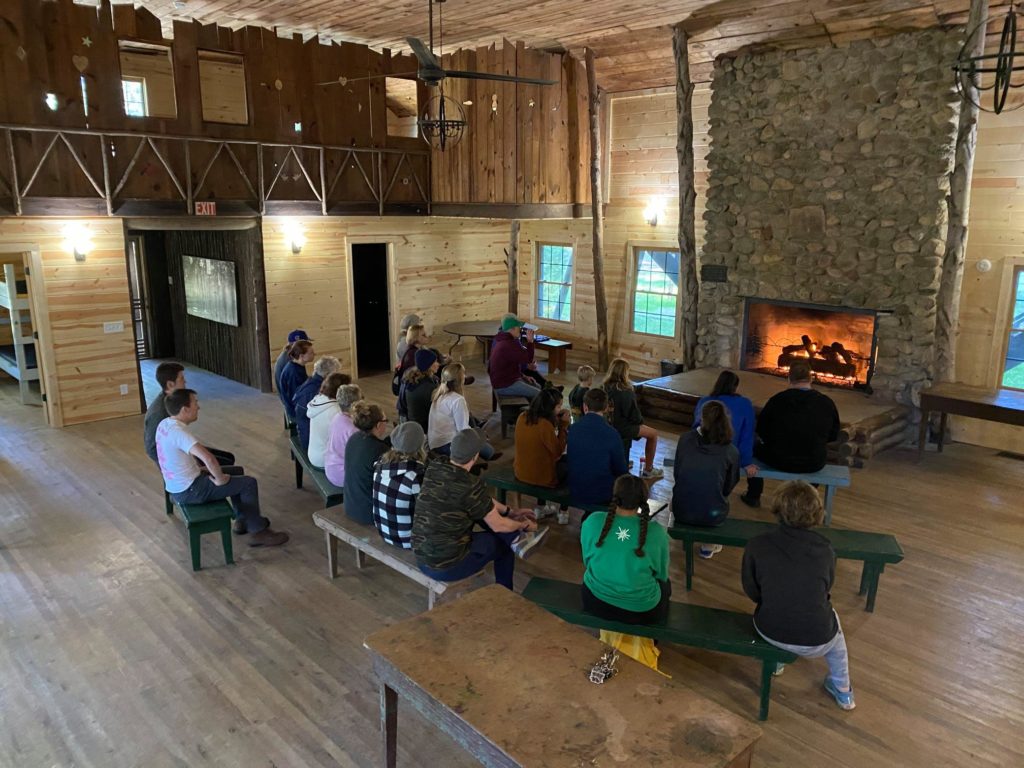 Our guests filtered in for breakfast, many having stayed up quite late. As the caffeine and/or movement eventually kicked in, we packed up and relocated to Morris Lodge for a brief Council Fire. We sang several classic camp songs and said goodbye to this year's gathering. Many hugs and well-wishes later, we agreed that we would host another weekend next year – perhaps a little more laid-back and less programmed, but every bit as filled with friends and fun.
Next Year: Save the Date!
If you didn't get to join us this year, save the date for next fall's Gathering of Friends from September 23-25, 2022 and your opportunity to come home to Tannadoonah. Even better, subscribe to our newsletter and we'll let you know all the updates.
As the song says, this is goodnight but not goodbye!